National Marine Aquarium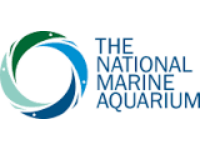 Discover an underwater world – starting with the largest native exhibition in the UK – that explores the fish you've heard of and the many more mysterious animals that live on our doorstep. As you dive deeper into the Aquarium, our Eddystone Reef tank will blow your mind with the UK's largest single-tank viewing panel (it's like a fishy cinema screen).
We are a conservation charity. By visiting us you are helping to protect the marine environment, whilst having a great experience at the Aquarium. You can find out more about what we do in the About Us section of the website.
If British beauties aren't enough, our Atlantic Ocean tank – home to large nurse sharks, sand tiger sharks and our new lemon sharks – is the deepest in the UK, with 2.5million litres of water. The Atlantic Ocean tank is home to three species of ray – if you see them, don't forget to take a selfie! We've also got fantastic smaller displays, from lionfish to family favourites such as clownfish and some very, very smiley pufferfish.
To finish your marine adventure off, our Great Barrier Reef tank is home to Snorkel the loggerhead turtle, our most famous character, who washed up at Sennen Cove and suffers from epilepsy. Snorkel is also joined by two new zebra sharks that have a really interesting story as they have no father.
To find out more on The National Marine Aquarium, please click HERE
Outland Road - Plymouth, Devon

Outland Road busy but moving between the Manadon Roundabout and the Milehouse Interchange. Travel time is four minutes.

Tavistock Road heading away from the City Centre - Plymouth, Devon

Tavistock Road heading away from the City Centre busy but moving around Derriford.

Torpoint Ferry - Devonport, Devon

Waiting times of up to 15 minutes and two ferries running on Torpoint Ferry between Devonport (Devonport) and Torpoint (Torpoint).