Discount Voucher for Plymouth Garden Centre
Please print off your discount voucher below to use in store at the Plymouth Garden Centre. Valid from 11/04/2016 - 17/04/2016.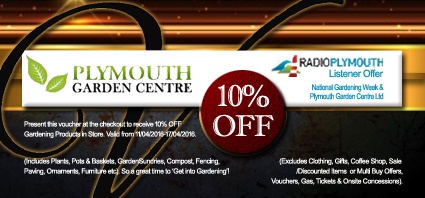 Plymouth Road - Tavistock, Devon

Plymouth Road busy but moving between the Town Hall and the Armada Roundabout.

Forder Valley Road - Plymouth, Devon

Usual slow traffic on Forder Valley Road near the Forder Valley Interchange.

Torpoint Ferry - Devonport, Devon

Waiting times of up to ten minutes and.3 ferries running on Torpoint Ferry between Devonport (Devonport) and Torpoint (Torpoint).