Half Price Boiler Servicing with Soper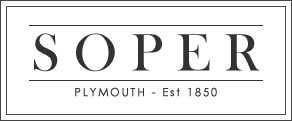 £84.00
£42.00
Remaining: 1
Soper's have been servicing boilers in and around the Plymouth area for decades. We offer an easy and reliable boiler service solution for all home owners and landlords. We service all types, makes and models of gas boilers. Prevention is better than cure, keeping your boiler annually maintained can save money in the long run and unnecessary, costly boiler repairs.
WHAT DOES AN ANNUAL BOILER SERVICE INCLUDE:
• Initial visual check of the boiler.
• Ensure the boiler fires safely to identify any working defects or faults.
• Carry out a flue gas analysis efficiency test.
• Opening up the boiler and inspecting key working components.
• Remove, clean and refit the condensate trap.
• Check operating pressures.
• Carry out a visual check the flue and ventilation to ensure they meet current Gas Safety Regulations.
• Check system pressure and adjust accordingly.
• Visually check radiators and valves (bleed radiators if required).
• Carry out a visual check on the hot water cylinder and associated pipework (if applicable).
• Test gas pressure and leave in good working order.
• Sign manufacturers service record book if available.
• Confirm in writing/email that the service has been carried out.
For more information on the Soper Home Care Cover Plan for only £15 a month, head over to their website for more details.

Expires 4 months after purchase date
Limit 1 per person
New customers only
to book call 01752 301 111 and quote your voucher number
24 hour cancellation policy or voucher becomes invalid
Must be 18 or older
Postcodes services- PL1, PL2, PL3, PL4, PL5, PL6, PL7, PL8, PL9
Services does not include any repairs
Natural gas boilers only
Boilers must be in full working order
Further Radio Plymouth Voucher Store Terms and Conditions can be found here
Gas safe registration number - 586679
Outland Road - Plymouth, Devon

Heavy traffic on Outland Road between the Manadon Roundabout and the Milehouse Interchange. Travel time is five minutes.

Forder Valley Road - Plymouth, Devon

Very slow traffic on Forder Valley Road near the Forder Valley Interchange. Travel time is seven minutes.

Albert Road - Plymouth, Devon

Albert Road busy but moving near the Naval Base.