Jon White at the Weekend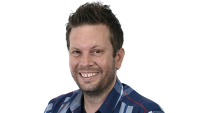 We grabbed Jon after his show to ask him some quick-fire questions:-
What was the first single you ever bought?
Nik Kershaw - Wouldn't it be good! I actually remember saving up my pocket money for this! It was £1.25 in WH Smith - bargain!"
What's the funniest thing to happen to you on air?
Being violently ill over someone I was interviewing during an outside broadcast on a boat to Lundy Island off the coast of North Devon. We were both mortified! No radio station has sent me on a boat since!
What's the best thing about presenting on the Radio?
It's going to sound like a cliche but I love being the person to wake up the good folk in the local community living and breathing Plymouth and chatting about the things that matter.
What are your 3 favourite things?
Apart from my other half Kerry, children, family and dog (they're not really things!) I guess I'm a man geek so I'll go with my hoard of Apple devices, my home recording studio and my turntable record player, nothing like getting a bit of crackly vinyl on once in a while ... there, told you I'm a geek!
What would be the title of your autobiography?
It's all Showbiz Luv!
Top 5 dinner guests?
Oh good question! O.K. I'm going random, top of the list is Steve Cougan, Sir Bruce Forsyth, Ant, Dec and Chris De Burgh ...What a mix!
If you were stranded on a desert island and could only take 5 things with you, what would they be?
iphone - charger for iphone - generator to provide power for iphone charger to charge iphone, signal booster so I could get a signal on my iphone and a truck of beer and chips !!!
Torpoint Ferry - Torpoint, Devon

Waiting times of up to ten minutes and three ferries running on Torpoint Ferry between Devonport and Torpoint.