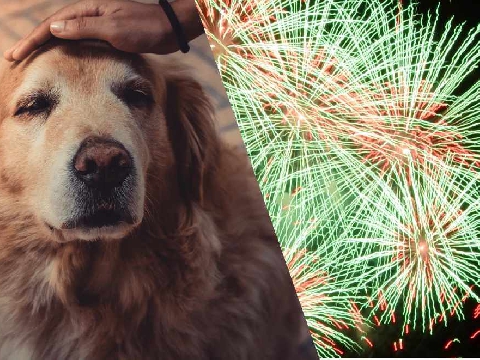 What you should do if a pet is scared of fireworks
Tonight (5th November) is Bonfire night and we're being told pets shouldn't be left alone at home, as many will need reassurance during firework displays.
Dogs can hear sounds at a much greater frequency range than humans can, and are more sensitive to the sound of fireworks.
What you can do if your pet is scared of fireworks:
- Set up a safe place. Crates with the door open are great and you can make a cosy den using some sheets or duvets.
- Close curtains and put the TV or radio on to hide the sound of fireworks.
- Before the night, buy a CD or find a YouTube channel with different noises and play it to your pet, to get them use to the sound of fireworks.
- An anti-anxiety wrap can reduce dogs feeling nervous by applying constant gentle pressure on certain parts of the body.
- Going for a walk before the event takes place means they won't need to go out during the firework displays.
- A pet remedy can be useful. You can get plug-in scents, or use it on their collar or spray in their bedding.
- Reassure them. It's likely they'll want to be close to you for support.