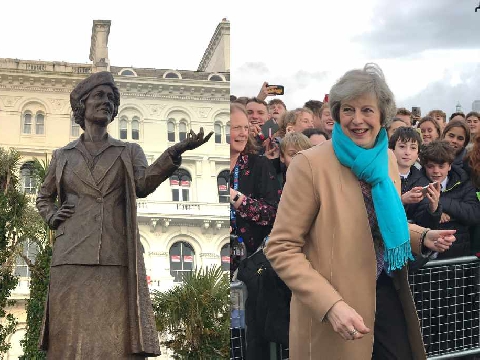 The former PM was celebrating 100 years of women in politics
The statue of Nancy Astor has been unveiled on Plymouth Hoe. She was the first female MP to take her seat in parliament, 100 years ago.
Lady Astor served as MP for Plymouth Sutton for around 25 years, and the statue's been placed outside her former home in Elliot Terrace, to celebrate 100 years of women in parliament.
Former Prime Minister, Theresa May did the honours saying she was a trailblazer and a "very brave woman".
How the day unfolded:
7.30am - Nancy Astor Express train left London Paddington, travelling towards Plymouth, carrying VIPs and special guests.
10.45am - Nancy Astor Express train arrived at Plymouth station.
11am - Students from Plymouth College took part in a march to the Hoe.
12.30am - Ceremony started on Plymouth Hoe.
Photo gallery: Nancy Astor statue gets unveiled