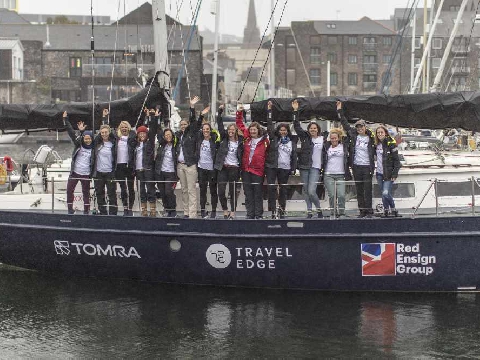 The all-women crew have set off from Plymouth on the two-year trip
The eXXpedition 'Round the World' voyage will investigate the global prevalence of plastic pollution and possible ways to address it.
The all-female crew have today (8th October) embarked on the pioneering global sailing voyage, after setting sail from Plymouth. In total 300 women will be part of the expedition, with crews of 10 on-board at any one time.
Together they'll travel 30 legs, covering a total of 38,000 nautical miles, circumnavigating the globe via four ocean Gyres and the Arctic.
As well as research around plastic, the team aims to highlight the under-representation of women in STEM (science, technology, engineering and maths) industries.
They're on board the 73ft sailing vessel S.V. TravelEdge, which will return to the UK after the mission has finished in 2021.
The crew will undertake a range of research projects in partnership with Dr Winnie Courtene-Jones, who is the eXXpedition Science lead.
Mission Director Emily Penn told us about the expedition:
Dr Winnie Courtene-Jones, from the university explains more about the project's research aims:
eXXpedition's route map: