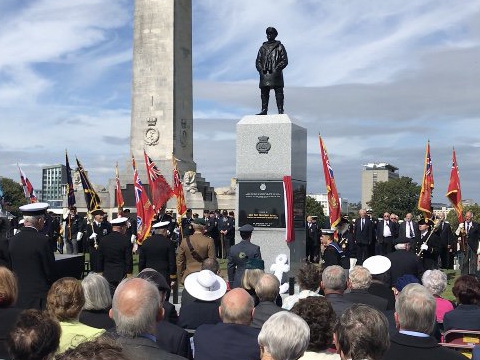 It's dedicated to the Merchant Navy and UK fishing fleet
HRH Princess Royal has officially unveiled a monument on Plymouth Hoe.
The statue is dedicated to the Merchant Navy and UK fishing fleet.
Crowds gathered to watch the unveiling, including hundreds of veterans, for the monumental day.
Princess Anne's visit also coincided with Merchant Navy Day (September 3rd) - a day that honours the brave men and women who served during both World Wars. It also celebrates our dependence on modern day merchant seafarers, who are responsible for 95% of the UK's imports.
Traditionally, Merchant Navy Day has been marked by a service on the Barbican for the Merchant Navy in Plymouth, but this is the first year where members of the Merchant Navy Association were able to gather on The Hoe.
The structure is made up of three blocks of granite, forming a plinth on top of which stands the Watchkeeper statue, designed and cast by Stephen Melton of Spacer Studios, Ramsgate.
Panels on the plinth provide a brief narrative of the importance of those 'that go down to the sea in ships and do business in great waters'.