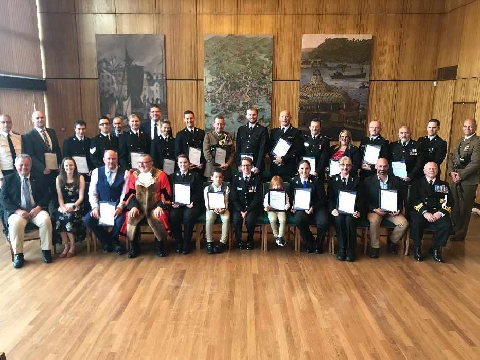 They've been honoured at awards ceremony
Staff from the Plymouth Basic Command Unit and members of the community were recognised for their outstanding work and acts of bravery at a ceremony held in the City Council Chambers last week.
Those recognised were a member of the public who prevented a potentially very serious road traffic collision, police officers who have saved lives when off duty, officers dealing with challenging and distressing investigations leading to successful prosecutions and more members of the public carrying out heroic acts such as restraining violent shoplifters and helping disrupt an armed robbery.
Two young brothers are also being commended for their unprecedented bravery during a serious road traffic collision. They were travelling in their car with their mother when their vehicle skidded on some dirt and collided with a hedgerow. The car flipped onto the driver's side, trapping their mother. The elder brother climbed out of the vehicle and leant back inside the car to help pull out his younger brother. They managed to get out safely, as did their mother who had been able to call for help and be rescued by members of the public.
Chief Superintendent Tamasine Matthews attended the event, as well as other senior managers from the Plymouth Basic Command Unit. Tamasine, who was extremely proud to be presenting the awards, said: "These events remind us not only of the outstanding commitment of our staff, but those heroic actions from members of the community. The awards and commendations at this ceremony are for a wide range of achievements from in-depth and committed investigations into historic sex abuse, to saving the lives of those most vulnerable in the community. Hearing about how members of the public have tackled violent offenders with little thought for their own safety is humbling and I'm so pleased we are able to recognise their actions at the ceremony. "
Details of those who received awards on the night:
PC Clint COX & PC Gary KELLOCK
In the early hours of 14th July 2018, following a concern for welfare, PCs Clint Cox and Gary Kellock attended a busy flyover above the A38 in Plymouth. They found a man sitting precariously on the edge of the flyover, some 30 meters above the busy main road.
Both officers had experience dealing with similar incidents previously and had serious concerns for the welfare of this man. PCs Cox and Kellock negotiated tirelessly with the man, showing true empathy and concern.
Eventually, after nearly 2 hours of negotiation, the man let go of the railings and began to roll forward towards the road surface below. At this point both officers rushed forward without any regard for their own safety and managed to grab hold of the man just as he was about to fall. PCs Cox and Kellock managed to pull him to safety and onto the pavement. Both officers continued to show remarkable compassion, respect and empathy and not only demonstrated remarkable negotiating skills but also patience and care, throughout the incident.
PC Lewis THOMPSON
Duties and Responsibilities
On Halloween 2018, PC Lewis Thompson planned and executed a very successful operation tackling anti-social behaviour in Efford. At the end of the operation, PC Thompson was in company with Special Constable Ami Gasson when they were called into a nearby address: a member of the public who was requesting help for a young woman who was not breathing.
The officers entered the address and found the woman in the recovery position. Quickly identifying that she was definitely not breathing, both officers commenced CPR and continued with this for a considerable amount of time. When paramedics arrived at the scene they requested that the excellent first aid being performed by the officers continue and this resulted in the woman producing an output and breathing on her own once again.
PC Thompson and SC Gasson then made an assessment of the scene and noted signs of a disturbance. The officers provided pertinent updates during a tense and emotive scene with both of them displaying dynamic decision making. They conducted themselves with the utmost professionalism and gave the young girl the best chance of recovery.
COMMANDER'S COMMENDATIONS
Master Cameron SAYER-POLL & Master Lewis SAYER-POLL
On Sunday 13th January 2019, brothers Cameron and Lewis were travelling in the car with their mother when they were involved in a single-vehicle accident after skidding on some dirt and colliding with a hedgerow. The car was flipped onto the driver's side, trapping their mother.
Cameron, who was at this point suspended in the air, acted with incredible bravery and opened the passenger door above his head before clambering out of the vehicle. He then leant back inside the car and helped to pull his little brother Lewis up and out of the car. Cameron carefully helped Lewis safely down from the top of the overturned vehicle before climbing down himself.
During this time, the boys' mother, Gemma, had managed to call for help and members of the public had arrived to help extricate her carefully from the car.
This is a situation in which it would have been understandable for the boys to be terrified and upset, yet instead they both showed maturity far beyond their years and acted with absolute bravery when their mother was unable to help and was in need of assistance.
Cameron and Lewis are an absolute credit to their family and are commended for their courage.
COMMANDER'S COMMENDATION
DC Jacqueline HUNT
Between December 2016 and April 2018, DC Hunt investigated a case of historical abuse spanning three decades, committed against children and adults by several adults who were in positions of trust across the city.
DC Hunt was under tutorship to become a substantive detective at the time but did not hesitate to commit herself to the main responsibilities of this sensitive, complex and high profile investigation with dedication and professionalism and exceeded the expectations of her supervisory officers.
Whilst providing the highest level of victim care and support to the multiple victims and their families, she conducted her enquiries into this complex case over a considerable period of time with a high degree of investigative skill and diligence.
DC Hunt showed great tenacity in the pursuit of justice for the victims, working long hours, with limited resources and whilst working on other cases simultaneously. Her determination and resilience saw the main offender convicted in April 2018 and sentenced to twelve years imprisonment.
DC Hunt is commended for her professionalism, tenacity and dedication.
COMMANDER'S COMMENDATION
Mr Carl FROST
On the 13th December 2017 a robbery took place at a Tesco store in Plymouth. Masked and armed men were attacking two Loomis security guards in an attempt to steal the cash canisters they were carrying.
Mr Carl Frost was with work colleagues from a removal company when they had stopped to buy snacks. Seeing the robbery in progress, Mr Frost ran to the aid of the security guards with no hesitation or concern for his personal safety. It was blatantly obvious that all the suspects were armed with various tools and knives but he did not hesitate in running towards them. Mr Frost managed to grab hold of one of the suspects by his hood but the suspect made good his escape with the hood ripped from his jacket.
Mr Frost fell to the ground and sustained grazes to his knees and wrist but still managed to memorise the number plate of the escape vehicle which assisted the police with their enquiries and investigation.
The courageous actions of Mr Frost aided the victims as the suspects soon fled as they knew that the robbery was now being witnessed by members of the public.
Individual acts of bravery such as this really can change the lives of others and we therefore commend Mr Frost for this outstanding display of bravery.
SUPERINTENDENT'S CERTIFICATE
PC Steven PUCKERING
On the 30th December 2018, during a busy rush hour commute, police responded to reports of a man on the wrong side of the Marsh Mills Flyover on the A38. The man had just assaulted a member of the public, was wanted by police and was now clearly in a moment of crisis as he was threatening to jump. Numerous calls were received by the police and the incident was being recorded by the police helicopter.
Various members of the public had stopped their vehicles, one of whom happened to be PC Steven Puckering who was driving home after completing a busy day shift.
PC Puckering, without a thought for himself or the fact he was off duty, exited his vehicle and made his way over to the man. The incident was extremely dynamic and, as PC Puckering started to engage, the man tried to jump off the barrier. PC Puckering made a dash for him and wrested him to the ground, along with assistance from others, until a firearms unit arrived on scene to detain the man and deal with his aftercare.
Had it not been for PC Puckering's commitment whilst off duty, the situation could have ended in serious harm, possibly implicating members of the public at the same time.
SUPERINTENDENT'S CERTIFICATES
PC Deborah BENWELL & PCSO Chantelle WILDMAN
Over the 2018 Christmas period, PC Deborah Benwell and PCSO Chantelle Wildman attended a domestic incident in Plymouth, the result of which left a one year old and an eleven year old with their Christmas completely ruined. Extensive damage had been caused to the property, including household appliances, the Christmas tree and any Christmas presents.
Feeling extremely saddened having witnessed first-hand what had happened and the clear upset it had caused, PC Benwell and PCSO Wildman orchestrated a social media appeal asking colleagues and friends to assist by way of donations to the family, especially the two children. Unwanted toys, presents and food were asked for in the hope that PC Benwell and PCSO Wildman would be able to restore Christmas for this particular family.
The result was astonishing and not only did she manage to restore Christmas for the family but, due to the plethora of donations received, it meant that other local families were also helped.
This display of selflessness is a wonderful example of the empathy that officers such as PC Benwell and PCSO Wildman display to victims and members of our communities.
COMMANDER'S COMMENDATION
Inspector Paul LAITY
Inspector Paul Laity was a part of Operation Decio: the investigation into the sexual exploitation of children and the supply of class A and B drugs in Plymouth.
The defendants were a group of primarily international males from an organised crime group operating within Plymouth.
The operation commenced with a small piece of intelligence indicating that a number of children and adults were perceived to be at risk from this group, and culminated in the conviction of nine defendants for conspiracy to supply and other drug exploitation offences.
The individuals received a cumulative total sentence in excess of 40 years, representing a substantial disruption to the group and providing a period of significant safety to the community from their offending.
Given the sensitive nature of the investigation and the paralleled links to similar child sexual exploitation operations in Rotherham and Bristol, the trial attracted positive regional media coverage and a huge amount of local social media support of both the police investigation and sentences. As a result, this organised crime group has been dismantled and we have safeguarded the young from the potential criminal activities of this group for a number of years.
COMMANDER'S COMMENDATION
WO2 Kevin PEART
During the evening of Thursday 3rd January 2019, Mr Kevin Peart, a Warrant Officer in the British Army, came across a distressed and suicidal woman sitting precariously on the concrete ledge outside of the safety barrier of a bridge in Plymouth. The concrete ledge was a substantial height above the busy dual carriageway and the fast moving traffic which could easily have resulted in a fatal fall. WO2 Peart stopped his car in a safe location in order to assess the situation.
Displaying admirable awareness and leadership, he remained calm and thoughtful as he made the situation safe for himself and other members of the public who were unsure what to do.
Dressed only in his running clothes, WO2 Peart showed his compassion and sympathy as he built a rapport with the distressed woman. He convinced her to return to the safe side of the barrier only to find she was unable to do so without his help. Conscious that not only would the fall prove fatal for the woman but that it would also be exceptionally dangerous to unaware motorists below, WO2 Peart did not hesitate to put himself at risk by leaning over the barrier to help her clamber over to safety. His actions prevented a tragic incident and safeguarded a very vulnerable woman in the midst of a mental health crisis.

SUPERINTENDENT'S CERTIFICATE
PC Mark SENIOR
On the 21st August 2018, whilst on patrol PC Mark Senior was dispatched to a report of a woman in distress sat on the wrong side of the barrier on the top floor of the Theatre Royal multi story car park in Plymouth. It was the middle of the day and there was therefore lots of public interest.
PC Senior arrived and made his way to the woman and started to engage with her. It was clear she was in a moment of crisis and was threatening her own life.
PC Senior continued to negotiate but, unfortunately, the woman got up and proceeded to lean over in an effort to jump. At this moment, without thinking of his own safety, PC Senior ran to the woman and took hold of her while managing to pull her back over to safety. PC Senior then detained her until other officers arrived.
PC Senior's actions were heroic and captured on CCTV. Without his quick thinking and disregard for his own personal safety this could easily have had a tragic ending and that is why he is commended here tonight for his bravery and selflessness.
SUPERINTENDENT'S CERTIFICATE
PC Steven PUCKERING
On the 13th October 2018, police were called to a report of a high risk missing person who was last seen at the breakwater overlooking Plymouth. Numerous resources were deployed, including Ministry Of Defence police in their launch boat. Along with the many police resources was PC Steven Puckering who was due to complete his late shift but made the selfless decision to attend and assist.
It was just getting dark when the man was located sitting on the edge of the sea wall near Devil's Point: there was a large drop to the sea on the other side. He was clearly agitated and in a state of crisis.
PC Puckering was one of the first officers on scene and made the decision to make initial engagement. This was a potential life and death decision and placed PC Puckering in great danger, however this did not stop him from trying to talk the man down and save his life.
At first the man would not engage but he slowly started to develop a rapport with PC Puckering, to such an extent that the negotiator asked if PC Puckering would continue rather than try and introduce another person to the already stressful situation.
PC Puckering engaged with the man continuously for over two hours, well past the end of his shift and without any respite, which resulted in the man agreeing to come down and be rescued, after which he received aftercare from partnership agencies.
PC Puckering showed extreme professionalism and resilience in a very testing situation at the end of what was a ten hour shift, and his actions on the day clearly saved the man's life, for which we thank him.
PC Puckering consistently provides outstanding support to members of the public in their time of need.
COMMANDER'S COMMENDATION
Mr Mario AVANZATO
On the morning of Sunday 6th January 2019, Police responded to a 999 call reporting a road traffic collision involving two vehicles near to the Marsh Mills roundabout in Plymouth.
Mr Avanzato was driving his van en route to play golf in Plympton when he saw a Honda Civic in the distance driving slowly. As Mr Avanzato exited the A38 dual carriageway and headed towards Plympton he could see the Honda weaving between multiple lanes on the carriageway. Mr Avanzato sped up and drove alongside the Honda, noticing that the driver was shaking and not in control of the vehicle.
Without hesitation, Mr Avanzato positioned his van in front of the Honda in an attempt to bring it to a safe and controlled stop, successfully stopping the car and only causing slight damage to his own van. He immediately went to the aid of the other driver to assist and call for an ambulance. The driver of the Honda had suffered a medical episode whilst at the wheel but due to the courageous and selfless efforts of Mr Avanzato the driver was saved from the possibility of a serious collision further down the road.
Mr Avanzato's actions that morning no doubt prevented a serious road traffic accident which could have potentially caused great harm to the driver, other road users and members of the public.