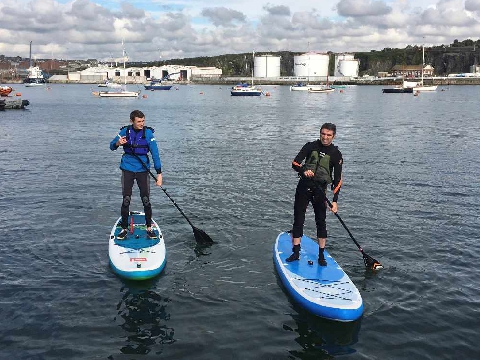 Sessions have been able to restart following the lockdown
Water-based activities, like kayaking and paddleboarding have been able to resume in Plymouth in recent weeks.
The Making Waves Together Project supports families to get active together and to improve their confidence on the water.
They have been able to start sessions again, with a series of measures in place to ensure people's safety.
Project manager, Tors Froud said:
"When you're covered in salt water, you don't necessarily think about hygiene but that's one of the key things we're actually focusing on at the moment.
"The equipment we have is being cleaned down after use. We've got the instructors out there with their PPE on after every session, completely cleaning everything down. It's definitely been a learning curve.
"We're having to have a couple days a week where we actually deep clean all the equipment, and encouraging people to not wear wetsuits, or to bring their own, if they've got them."
The Making Waves Together Project sessions resumed on 11 July. Tors said:
"I've just been grinning like a Cheshire cat because of the feedback we've had based on how we've been able to adapt, and encourage people to get back out there."
"There's a theory called Blue Mind. It's that we have to disengage from the hectic day-to-day life but when you go on the water, it's you, it's the sea, it's a very fundamental natural element.
WATCH: Radio Plymouth journalist Chris Baker tries stand-up paddleboarding with Making Waves Together Project:
(video filmed October 2019)