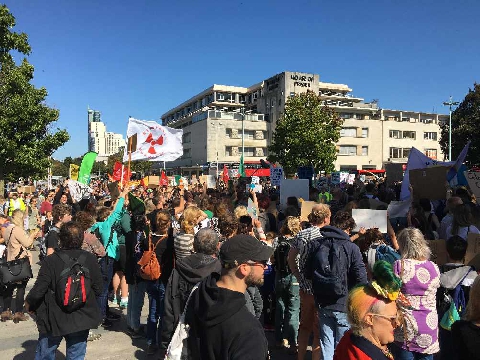 Image of latest Extinction Rebellion protest in Plymouth
They're calling for urgent action on global climate and wildlife emergencies
The Plymouth branch of Extinction Rebellion will be holding a series of daily protests in support of the nationwide actions in Westminster.
Members from Plymouth and other South West branches of Extinction Rebellion have joined other activists on Lambeth Bridge in London as part of a two week environmental protest.
Extinction Rebellion wants the government to reduce greenhouse gas emissions to net-zero by 2025 - rather than the current target of 2050.
Organisers have planned to shut down key sites in central London, in addition to demonstrating outside government departments.
More than 130 people have already been arrested.
Extinction Rebellion activists are protesting in cities around the world, including Berlin, Amsterdam and Sydney.
Many Extinction Rebellion members from the South West will be travelling up throughout the week to continually reinforce the Bridge Takers.
Those who are unable to travel to the capital for the protests will be joining daily protests in Plymouth in support of the national action.
These will be centred around Royal Parade and Armada Way and will take place between 4pm to 4.30pm each day.
The Plymouth branch of Extinction Rebellion says the number of protesters will be small - as many of their members are either at the London protests, at work, or at home looking after their families - but the protests will be noisy and may involve disruption to the movement of traffic through the city centre.
Friday is expected to be larger, with a slow bicycle ride down Royal Parade.
The Plymouth branch of Extinction Rebellion says that the police have been informed and they hope that members of the public in Plymouth will support them.