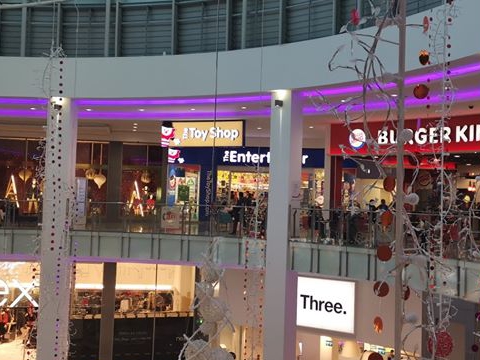 Image credit: Drake Circus Facebook Page (@drakecircus)
It's part of an international to recognise the importance and needs of disabled customers
Drake Circus have gone purple today to recognise Purple Tuesday - an international call to action, focused on changing the customer experience for disabled people.
From 9am - 12pm they will be turning off music and dimming lighting (where possible) to facilitate a low-sensory shopping experience.
Since last year's event, the shopping centre has made a number of changes to make their facilities better suited for disabled consumers.
This includes: upgrading the facilities in their Changing Places care room, establishing their monthly sensory shopping sessions, improving signage for disabled facilities, and WorldHost training for their team with specific focus on helping their disabled customers.
What is Purple Tuesday?
Purple Tuesday is an international call to action to celebrate the purple pound – the spending power of disabled people and their families.
It's a milestone awareness moment for an issue that is relevant 365 days a year.
It will involve organisations of all sizes and from all sectors taking decisive, practical actions to meet the needs of disabled customers.
Across the UK, the Purple Pound – the consumer spending power of disabled people and their families – is worth £249 billion and is rising by an average of 14% per annum.
Worldwide, the Purple Pound equates to a staggering £2.25 trillion, yet less than 10% of businesses have a targeted plan to access this disability market.
Purple Tuesday is about creating a step change improvement in the awareness of the value and needs of disabled customers. It is about making the customer experience accessible.
Participating organisations will make public commitments (a minimum of one new activity or initiative) to ensure sustainable changes are made.
For organisations, this will result in the opening up of products and services to the disability market.
More information about Purple Tuesday can be found here.