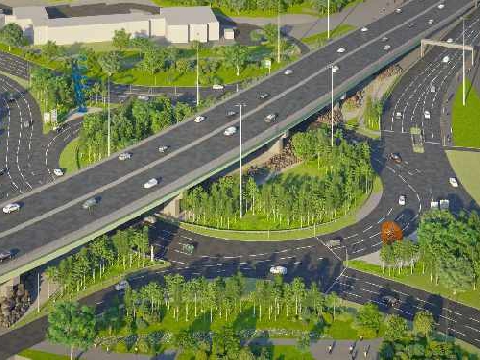 Image: How Marsh Mills would look after the transformation
The roundabout could have 1,000 trees planted on it
Leading members of Plymouth's construction industry are hoping to raise £40,000 to plant over 1,000 trees at Marsh Mills roundabout.
It'll be called the Mayflower 400 forest, and it's hoped the roundabout will be transformed into a green gateway, improving the entrance to Plymouth, and delivering significant environmental benefits.
They're asking for 400 businesses in our city, to donate £100 each, in order for them to deliver the project.
It's part of the Road to Mayflower Project, which, as well as the Mayflower forest, are working on a number of other projects, which include illuminating the Plymouth Slope, installing a series of vibrant art panels on Embankment Road, refurbishing Gdynia Bridge and refresh the flowers and have a pop-up art display in Blagdon Meadows.
Steve Warren-Brown from YGS Landscapes, spoke to Radio Plymouth about the project:
View the campaign here: www.crowdfunder.co.uk/mayflower-forest