New Continental Hotel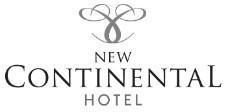 New Continental Hotel, Millbay Road, Plymouth, PL1 3LD
Telephone: 01752 220782
Email: reservations@newcontinental.co.uk - for wedding enquiries please email: weddings@newcontinental.co.uk
Website: www.newcontinental.co.uk
Located in the centre of Plymouth - adjacent to the Plymouth Pavillions and just minutes away from Plymouth's historic waterfront - our hotel is the perfect location for weddings, business and pleasure. The largest independent, family owned hotel in the city, we aspire to create an individual, personal and comfortable environment for any occasion. Ready to greet you is a warm welcome along with: Club Continental, our leisure complex complete with indoor heated swimming pool, sauna and steam room as well as gyms, all open 7 days a week. Steve's Brasserie, our in-house restaurant open from Monday - Saturday and serving delicious food made by amazing chefs using the finest local, fresh ingredients. We also have parking for over 80 cars and 99 ensuite rooms, functions spaces and luxurious bars.
New Continental Hotel are proud winners of the Plymouth Herald Business Awards for Tourism and Hospitality, Business of The Year 2016 and winners of Family Business of the Year 2015.
Embankment Road - Plymouth, Devon

Embankment Road busy but moving near Astor Park.

Drake Circus - Plymouth, Devon

Drake Circus busy but moving near the University of Plymouth.

Torpoint Ferry - Devonport, Devon

Waiting times of up to 15 minutes and two ferries running on Torpoint Ferry between Devonport (Devonport) and Torpoint (Torpoint).