Design a Scarecrow with Otter Garden Centres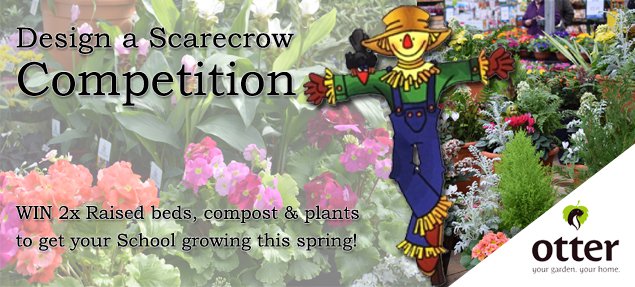 Radio Plymouth and Otter Garden Centres are delighted to be running our Design a Scarecrow competition with Primary Schools across Plymouth, to give away two raised beds with compost and plants, so the winning school can 'grow their own' this spring and summer! There'll be two runners up, that will each take away at £50 Otter Garden Centres vouchers for their school.
We want primary aged children to design a scarecrow using any materials you like! This is an opportunity to get creative - there are no other limitations. So, all you need to do is enjoy creating your scarecrow.
Don't leave it too long as entry closes on Wednesday 28th March 2018 at midnight.
Submit your entry now:
Scan / photograph and email,
Post to Radio Plymouth, 3 Crescent Avenue Mews, Plymouth. PL1 3AP.
Drop into Otter Garden Centre, Brixton.
A winner will then be selected and announced live on air!

Otter Garden Centres - your garden, your home.
Otter Garden Centres in Brixton, Plymouth is gearing up for Spring and customers are seeing a riot of colour.
March is a good time for planting and there are so many plants to choose from; our Alpine selection will set your rockeries rocking, while for cottage garden fans young plants such as lupins and delphiniums are ready to plant out. Our perfumed sweet peas can usually go out early too.
In the garden you'll be wanting to prepare your borders – if you find pulling up weeds a chore, visit the store to see some great tools to make weeding less of an effort. Lawns will need care, too – you may have done a mow or two already, so give your lawn some love with a lawn fertilizer. While you're feeding your lawn, don't forget your roses and borders. Ask instore for the best feeds to use.
Patio pots may still have healthy plants from the winter so just pep them up with violas and pansies – these are always reasonably priced, and you'll find they flower for you year after year.
It's our favourite time of year at Otter Garden Centres Plymouth, as evenings start to get lighter and we feel the warmth of the sun again. The perfect time to get out in your garden.