The Sunday Supplement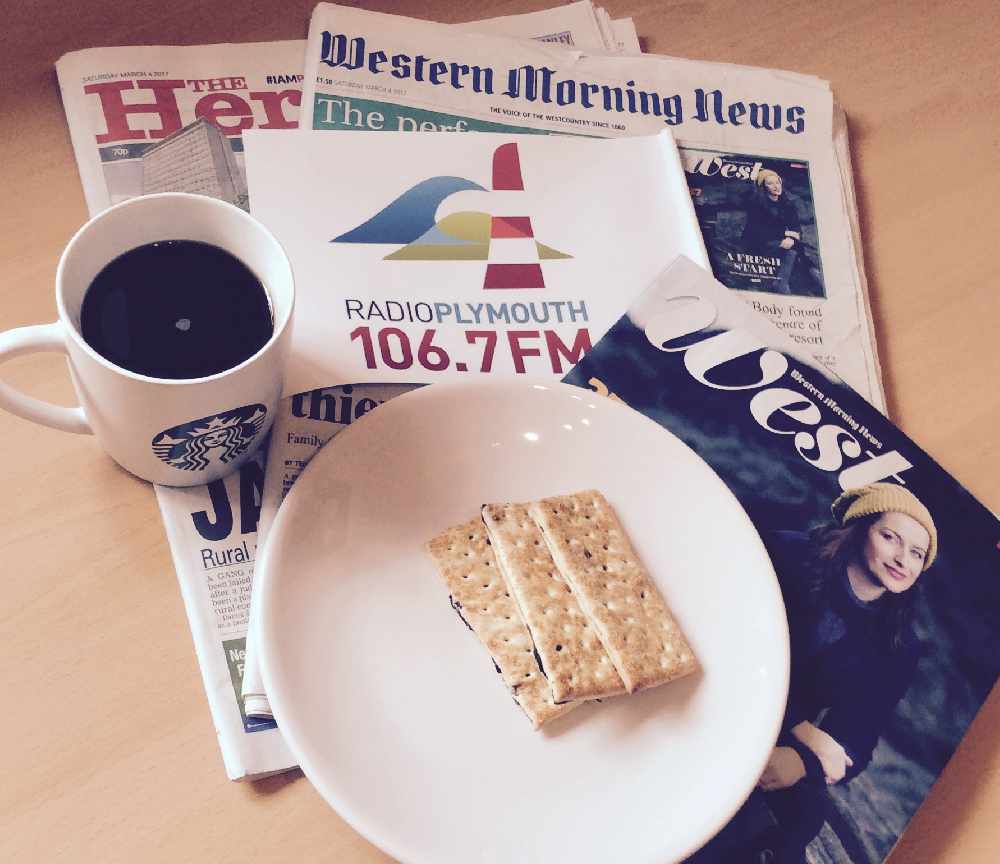 Every Sunday between 9am and 11am, our News Editor Sam Cook presents the Sunday Supplement.
He'll be taking a look at the best of the local news from the last seven days and playing More of the Music You Love, giving a more in depth look into what's been going on in Britain's Ocean City.
You can get involved too by heading over to the Radio Plymouth Facebook Page and having your say on what's been happening.
Sunday 18th February
A Plymouth hip hop artist has been speaking to Radio Plymouth about a project to make a creative arts studio here sustainable.
Toby G has praised everyone involved in thousands of pounds to keep Street Factory Studios going with Plymouth City Council contributing £20,000 to the cause - with the rest made up of donations.
Two tonnes of hazardous ghost gear has been removed from a remote and rocky area of coast near Fort Picklecombe in the Sound.
The team of 10 volunteers from Rame Peninsula Beach Care spent over five hours chopping up two massive tangles dragging them over 500m across slippery boulders to the fort.
The bundles included different kinds of net, rope and telecoms cable, each of them as long as a car.
Claire Wallerstein - who founded the Group - spoke to me about it, my first question - what's ghost gear then?
Six projects in Plymouth will receive around £4million to help speed up the building of houses on council land.
It's part of A £45 million cash injection into key community projects accross England.
Some of the area's that'll benefit include Colin Campbell House, Bath Street West, Honicknowle and the Lipson Allotments among a few others.
I caught up with Marcus Jones, Vice-Chairman for Communities, one of the main people involved in this.
The Herald's Clare Robinson also pops in for her weekly preview of this week's live music and theatre - plus a roundup of local music, theatre and interviews. So if you find yourself at a loose end, you'll know exactly what to do - without going too far.
Sunday 11th February
It's 100 years since the law was passed allowing women a say in elections - as long as they were over-30 and owned land.
We have a bit of history on this sort of thing - Plymouth had the first female MP to take her seat in the commons - that was 99 years ago.
Nancy Astor won the election for Sutton in November 1919, beating her main rival, Liberal Isaac Foot - the father of Michael Foot...
who of course went on to lead the Labour Party.
I've spoken to her Grandson - Lord Astor - this week about the role of women in politics and the campaign to erect a statue of his grandmother to mark a century since her victory, next year.
This week was Sexual Violence Awareness Week.
I went over to Stone house the charity First Light.
They work with hundreds fo domestic abuse victims from across the city - they've seen a rise in the number of self referals to the service.
It's all confidential, and I've spoken to some users there this week as well who've said the support they've had has been 1st class.
Here's Cath Curno - who's a Sexual Violence Service Manager - spoke to Radio Plymouth.
Plastic - we're talking alot about how we can combat it, cut back using it and generally be kinder to the environment.
One Pub in Plympton St Maurice is helping in that fight though, and John Govier - who runs the Brook Inn...
told me people here are getting on board.
Sunday 4th February
A deal's been signed to move forward the redevelopment of the Home Park site.
Argyle's grandstand will be rebuilt, increasing capacity to more than 20,000.
There'll also be a new international-size ice rink on adjacent land along with a hotel, gym, offices and restaurants.
Our reporter Matthew Clarke caught up with Club chairman James Brent who told him how it's going.
We might be able to get tours of Drake's Island later this year.
The team behind planning a plush hotel there is preparing for some essential work first.
Bob King is project co-ordinator.
He gave our reporter Matthew Clarke an update on what's going on there
Have you ever fancied a change in career?
We've all maybe had days at work where we've said - 'right, no more!' But then another cup of something warm sees us right.
Well for one Saltash man, a switch in trade was just what he need.
After 22 years in the Royal Air Force as an Aircraft Engineer, Charlie Brown has decided to swap Jump Jets in the Gulf for nail varnish.
He's now studying the level 2 nail services course at Cornwall College Saltash with the goal of setting up his own business.
I caught up with him and he told me all about his story.