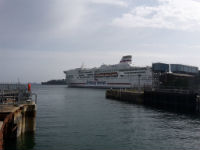 Millbay Docks
Plymouth could millions more for its old buildings and waterfront.
A number of Plymouth's historic buildings could benefit from funding and protection under a new initiative.
Plymouth City Council has applied Historic England to create a new 'Heritage Action Zone' covering Devonport and St Peter and the Waterfront, over five years.
The project could unlock thousands of pounds to protect and restore listed buildings, including Devonport Library, the Main Gatehouse at Raglan Barracks, Boringdon Arch, Lee Moor Tramway Bridge, the Civic Centre and surrounding landscape, How Street, Millbay Docks and Wyndham Hall.
If successful, funding from the bid could help pay for detailed master-planning around sites or go towards part of a restoration project that could unlock the regeneration of a wider site.
Councillor Glenn Jordan, heritage champion, said: "We've been in touch with all the owners of these properties and they support this bid.
There are some incredible historic buildings here in Plymouth but their age and conditions means maintenance can be a real challenge for their owners.
"A heritage action zone could act as a catalyst for housing developments as well as help the owners of these properties – and the city – maximise the potential these buildings have."