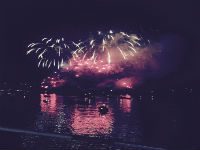 The major event returns to the Hoe tonight (August 9).
The British Firework Championships are taking place on the Hoe, over the next two nights (August 9 & 10).
Six teams from across the country are taking part in the event, which is being staged in Plymouth for the 21st time.
Around 100,000 spectators are expected to line various vantage points around the Sound, including the Hoe, Mount Edgcumbe and Jennicliff over the two nights.
Councillor Glenn Jordan said:
"When you look at the Hoe, it is a natural amphitheatre. The Sound is surrounded on three sides and the Hoe provides the ideal vantage point for the event."
The annual event generates around £4million to the local economy.