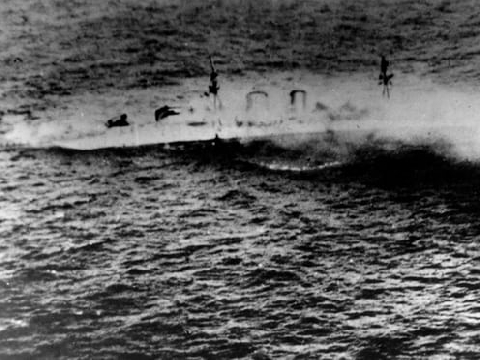 Luke Pollard wants Government to rebury remains of WW2 Royal Navy sailors
Labour MP Luke Pollard calls for remains of Royal Navy sailors killed on board WW2 ships disturbed by metal scavengers to be reburied with proper military respect and dignity.
Campaign follows latest incident in trend of ship wrecks being removed off the coast of Indonesia by metal scavengers.
Plymouth MP calls for those with former relatives on HMS Exeter to get in touch in drive to push the Government who so far are yet to act.
Luke Pollard, MP for Plymouth Sutton and Devonport has launched an online petition, calling on the Government to rebury the remains of British Royal Navy WW2 sailors that were disturbed and dumped in an anonymous mass grave in Indonesia.
Luke Pollard MP has previously raised this issue in the House of Commons to the Leader of the House, Andrea Leadson MP, calling for urgent action on the issue. The Plymouth MP's campaign follows reports last month that that the remains of British and Dutch Second World War sailors, that died in the Java Sea, have been dumped in an anonymous mass grave after metal scavengers raided former WW2 ship wrecks.
This is the latest incident in a disturbing trend over the last few years of ship wrecks being scavenged and all but removed off the coast of Indonesia by metal scavengers. It is estimated up to 40 Second World War-era vessels in the Java sea have already been partially or completely destroyed by this practice.
This includes the dismantling of the Royal Navy destroyer HMS Electra, on which 119 men perished, HMS Encounter, and HMS Exeter, a 175-metre heavy cruiser on which 54 died, formerly based in Devonport Naval Base in the constituency Luke Pollard represents.
It is also reported that the Dutch Government, who have experienced similar incidents of plundered ship wrecks have taken steps to protect wrecks and recover remains, but the UK Government is yet to act.
Luke Pollard is calling on those who had relatives on HMS Exeter when it sank in WW2 to get in touch, to push the Government on this issue and have the remains of war heroes buried with the respect and dignity that they deserve. He is also calling for war grave sites to be better monitored to prevent future disturbances taking place.
The petition is available to share and sign HERE
Luke Pollard MP said:
"I want to see the UK Government take urgent action to recover and rebury the remains of the Royal Navy sailors who died on HMS Exeter and HMS Electra. It cannot be right that Ministers have not acted to recover the remains of those who fell defending our freedom. To hear that their remains have been dumped in a mass grave sickens me and will horrify people across the country who rightly hold our nation's war dead in the highest esteem."
"While the Dutch Government is taking action to recover and protect the remains of the sailors on Dutch warships who died in the same area, I do not detect the same energy from the Foreign Office. While Brexit is important, the day job cannot be ignored. Those remains need to properly buried with the dignity and respect we afford all those who died in service to our country.
"As the MP for Devonport, I am asking for relatives of those who died on HMS Exeter to come forward to help me in my campaign to see these sailors buried properly. I am very concerned that ships that went down in previous wars are being scavenged by metal thieves with a ship the size of HMS Exeter being worth nearly £1million in scrap metal.
"These wrecks are rightly protected by international law but if it is not being enforced they have no protection and no dignity. I am calling for urgent action so we can ensure those who died get the fitting burial they deserve. No fallen British sailor should have their remains dumped in unmarked mass graves in the 21st Century. Please sign and share this petition."
Jessica Berry from the Marine Archaeology Sea Trust (MAST) said:
"MAST welcomes Luke Pollard's intervention. HMS Exeter was one of the Royal Navy's most iconic ships of World War Two. It is a disgrace that the remains of men who sacrificed their lives for their country have been subjected to such macabre treatment, removed from their last resting place and dumped in shallow graves."