PING! Launch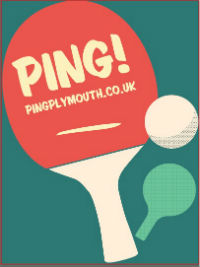 Join Radio Plymouth in the Piazza in the City Centre on Saturday 13th June for the launch of PING! Plymouth!
PING! tables will be popping up all over the city so you can join in the fun at this street festival of table tennis.
The launch takes place on Saturday 13th June at 10am where you can meet local Paralympian Dave Wetherill, see the masterclasses, exhibitions, take part in the beat the robot challenge and enjoy all the free fun.
Ping! is the free street ping pong festival which sees table tennis tables popping up in remarkable and surprising places nationwide during the summer. The ping pong extravaganza is just too tempting to resist; to join in the fun, simply grab a bat from the side of the table and play - absolutely free of charge!
Random facts of ping pong
· According to the Active People's Survey, 96,000 people now play table tennis once a week
· 19% of Ping! participants were inactive before getting involved in the project
· 96% of Ping! participants said they would play again
· There is evidence to suggest playing regularly can reverse the effects of Alzheimer's disease
· England won 5 medals in the 2014 Commonwealth Games including gold for husband and wife mixed doubles team of Paul and Joanna Drinkhall
· Ashrita Furman of the USA, holds the world record for table tennis ball spitting: 12.83m! That's the length of 2 buses!
· Fred Perry, former Wimbledon champion, won the World Table Tennis Championships in 1929
· The longest table tennis marathon for a singles match was 132 hours, in 1978
· Table tennis is the world's largest participation sport
· In elite competition, balls can travel up to 100mph and be struck as many as 180 times in a minute - that's 3 shots a second!
· The oldest table tennis player in the world is Dorothy de Low who competed at the World Vets Championships in Rio, 2008 aged 97 years 232 days
· Table tennis became a competitive sport in 1927; before then it was a party game for rich people
· Since table tennis joined the Olympic programme in 1988, China has won 20 of the 24 available gold medal
The biggest table tennis bat in the world is 8ft tall and has 4,682 pips on both sides. It is made from wood and rubber - the same as a normal bat
Come and join in the fun! Click HERE for more information about PING! Plymouth
A38 - Plymouth, Devon

A38 Westbound busy but moving before Tamar Bridge heading into Cornwall.

Torpoint Ferry - Devonport, Cornwall

Waiting times of up to 15 minutes and two ferries running on Torpoint Ferry between Torpoint and Devonport. Expect delays.