Duke of Cornwall Weddings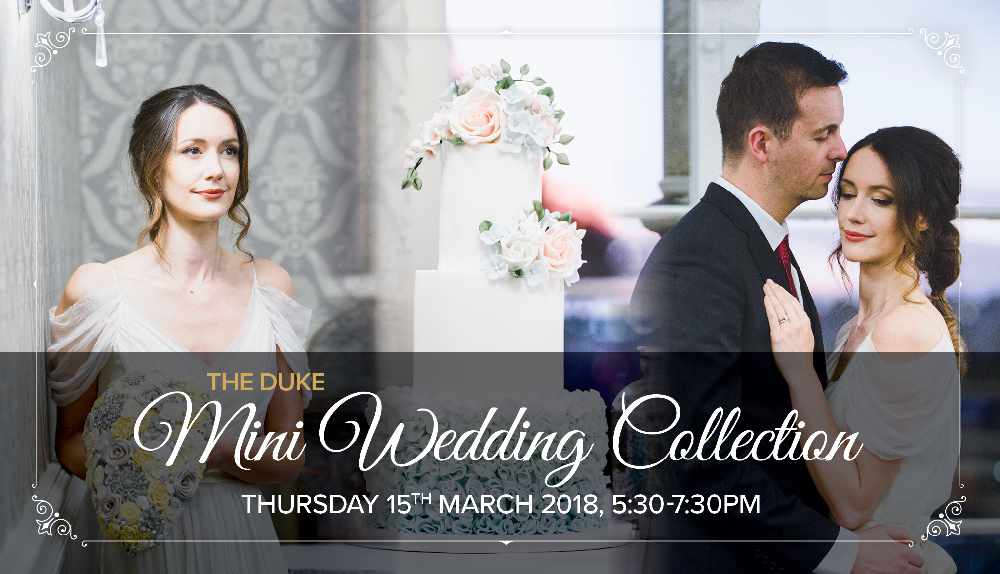 Making wedding plans?
Come along to the Duke of Cornwall Hotel Mini wedding Collection for an evening of ideas and inspiration.
Their ever-popular Mini Wedding Collection is back this Spring! This free wedding show designed exclusively for engaged couples is a chance to see work showcased by a select array of recommended wedding suppliers. Taking place from 5.30 to 7.30pm on Thursday 15th March 2018, the Mini Collection promises an evening of fantastic displays and entertainment – with plenty of creative ideas to inspire your vision for your upcoming wedding day.
As well as exhibiting the talents of our wedding partners, the evening will also show how some of the hotel's most popular function rooms look when prepared for a wedding. It's a fantastic opportunity to see their sensational spaces lit and decorated in full celebratory glory – with chairs and tables beautifully dressed, wedding items on display and entertainment to complete the feel of a wedding day.
The show will take place across the Ballroom, Hayward Room and Millbay Room, giving you a sense of the variety of spaces available if you opt to celebrate your wedding at the Duke. Plus, they're opening up their honeymoon suite and a selection of bedrooms for a glimpse of the luxury accommodation available to you and your guests.
The Mini Collection will be also be a chance to meet the Duke's expert wedding team – and to talk through ideas for your big day. With their extensive knowledge and experience, the Duke's experts are adept at making the most of the stunning features of this iconic venue. They'll be on hand during the event to discuss how the hotel's diverse range of spaces and flexible packages could work for your own wedding celebration.
The Mini Wedding Collection will take place from 5.30–7.30pm on 15th March 2018 at the Duke of Cornwall Hotel on Millbay Road, Plymouth. The event is free and open to engaged couples only. Come along for a fun and inspiring evening – and to see this unique setting in action as a magical wedding venue.