Cornwall College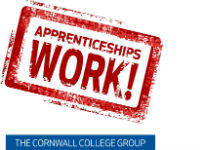 Cornwall College
The Cornwall College Group (TCCG) is the largest provider of apprenticeships in the South West. TCCG which includes Duchy College, Cornwall College Business (CCB) and Falmouth Marine School, has supported thousands of apprentices with their career journeys.
TCCG currently has over 100 vacancies in a range of subject areas including agriculture, engineering, horticulture, food production, law and business; in a range of levels from intermediate to higher level.
For employers:
Our Recruitment Team offers you a one stop shop approach to getting your first apprentice, and further apprentices where and when required in 3 easy steps:
Step 1
Talk to us today, we have people ready and waiting to start an apprenticeship
Step2
Can't find the right person? We will help you advertise and recruit the perfect apprentice
Step 3
We can help you access funding up to £1500*and deal with all the paper work
*Subject to eligibility
For potential apprentices:
Our Recruitment Team has excellent links to a large variety of businesses and can help you find your perfect job.
They can also help you with:
CV and Interview tips
On-going advice and support
www.cornwall.ac.uk/apprenticeships
Tel: 0845 6099 599
A3121 - Wrangaton, Devon

A3121 both ways closed due to accident from the Sign of The Owl Cross (Wrangaton) to Kitterford Cross (Ugborough).

Torpoint Ferry - Devonport, Cornwall

Waiting times of up to 30 minutes and one ferry running on Torpoint Ferry between Torpoint and Devonport.