Be Safe, Be Seen 2015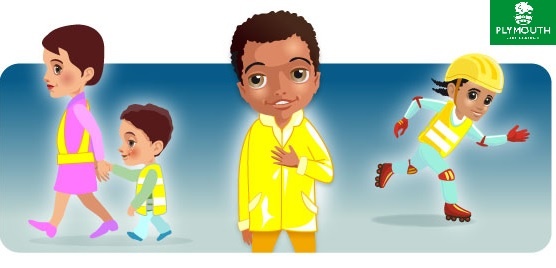 Be Safe, Been Seen 2015 is here!
Radio Plymouth and Plymouth City Council Road Safety want you to be safe as the nights get darker this winter. We will be out and about delivering 23,000 reflective stickers to Primary School aged children that can be stuck on book bags or school coats to reflective headlights and make them more visible. We want to remind pedestrians and cyclists when out at the roadside, to remember that although you may see the driver they might not see you! Therefore it is really important to be highly visible and you can clearly be seen in the winter months. Especially children on their school journey!
Here's some advice to help keep you safe when walking
Always choose well-lit routes.
Always cross the road at a designated crossing place
Don't cross between parked cars, as pedestrians are more likely to be hidden in shadows, or blocked from the drivers view by parked vehicles.
Wear or carry something white or reflective
Carry a torch if possible.
Here's some advice to help keep you safe when cycling
Make sure front lights, rear lights and rear red reflector are clean and working correctly.
Have spoke reflectors fitted to the wheels of the bicycle.
Wear something white or reflective
Cycle on well-lit roads and look carefully all around for other road users.
Reflective:
Something that reflects or shines back light beams, so it stands out brightly and can be seen. In the day reflective material looks dull and grey, but it sparkles brightly in the dark when light is shone on it.
Fluorescent:
Something that shows up brightly and clearly in the daylight - usually vivid pinks, yellows, lime greens and oranges. Fluorescent colours are good in bad weather conditions, but they don't show up any better than other colours in the dark.
A3121 - Wrangaton, Devon

A3121 both ways closed due to accident from the Sign of The Owl Cross (Wrangaton) to Kitterford Cross (Ugborough).