Acacia Training and Development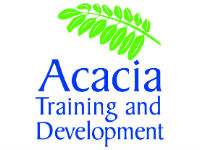 Acacia Training & Development
Acacia Training & Development Ltd (ATD) delivers Apprenticeships for people of all ages throughout the South West. ATD prides itself as a high quality provider of training services being rated as a 'Good' provider of training by OFSTED.
We specialise in vocational training in areas as diverse as Accounting, Office Skills, Elderly Care, Hairdressing, Plumbing and Refrigeration and Child Care. We support people who are currently in work through suitable qualifications and also help those looking to take the firsts steps on the ladder to a new and exciting career. Our specially trained advisors can help you choose the right career for you.
We have several local employers looking for motivated individuals and we specialise in matching those individuals with good quality employment opportunities. There are no term times as employers are looking for new talent throughout the year.
ATD is one of the largest locally based providers of apprenticeships and has built its reputation on supplying good quality training and development services to help learners and employers alike. If you're not sure what to do next give us a call, remember anything is possible….so……. Come with us and Achieve The Dream!
Tel: 01752 670811
A3121 - Wrangaton, Devon

A3121 both ways closed due to accident from the Sign of The Owl Cross (Wrangaton) to Kitterford Cross (Ugborough).