Jobs at Dame Hannah Rogers Trust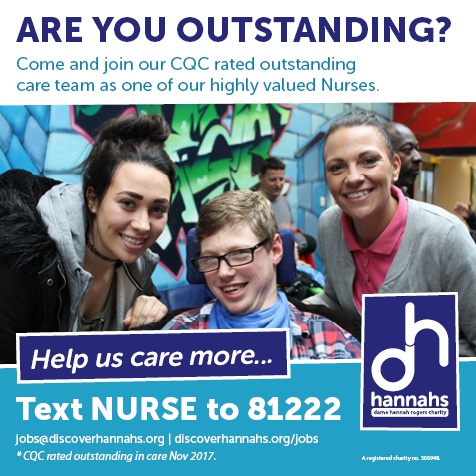 Dame Hannah Rogers Trust are looking for enthusiastic people to join our Outstanding* local charity and our fantastic team in Ivybridge
And you could be making a difference by:
• Supporting independence
• Ensuring each day is different
• Participating in a variety of fun days out
• Being part of an passionate and dynamic team
Plus the fantastic benefits include:
• Up to £9.87 an hour
• Flexible hours to suit you
• Part of a fun, supportive team
• No experience needed
• Full training provided
• Pension and employee rewards
TEXT CARE to 81222 for more information

The Dame Hannah Rogers Charity was founded in 1767 and although our proud history has been varied, the aim has been simple: to help enrich and empower the lives of children and adults in need.
In 1925 and after much modernisation, Hannahs opened one of the UK's first orthopaedic hospitals at Ivybridge, on the edge of Dartmoor National Park. Some 30 years later, we were the first to open a school for children with Cerebral Palsy. Since then, we've gone from strength to strength, enabling and enriching the lives of more than 500 disabled children and their families annually. In 2008, we saw a desperate need for young adults with disabilities. As a result we opened Hannahwood; a transition programme for 19-25yr olds. Hannahwood supports our students choice to live independently in specially adapted, bright and modern bungalows.
Being a support worker
As a support worker you may wish to work with our children and young people, or our young adults.
Children's - Your role may cover:
We provide the best care and education, for our children and young people.
• Supporting children and young people within the Children's Home, and with their learning in the classroom
• Supporting children and young people within the Children's Home alone
No two days will be the same – as well as providing support and care, you may be assisting them with their learning; going out on life-skills trips to the beach; parks; bowling alleys; helping them with activities such as Halloween and Christmas parties; and much more!
Adults - Your role may cover:
• Supporting our residential or respite young adults
• Supporting within our community living accommodation
Our young adults like to have a lot of fun, and you will help them take part in a variety of exciting activities, such as sensory music, performing & creative arts and social outings, such as festivals, football matches, cinema, and alot more.
Why you should join our fantastic team
We are looking for people who have a positive, patient and flexible attitude along with good communication skills and a passion to engage with children and young adults who have a disability.
We provide a 24 hour a day, seven day a week service, and have opportunities for full-time, part-time and night staff. We offer a comprehensive Induction programme, full training and on-going support in your role so you can achieve your career aspirations.
You will be involved in assisting them to communicate; understanding their individuals needs; building empowering relationships
We have great facilities such as hydrotherapy pool; rebound activities and use of our Seale Hayne site.
You will be ensuring that our children and young adults are looked after in a caring and stimulating environment so they have choices and can achieve their ambitions, and with your help, we can provide a service that transforms the lives.
For more information text CARE to 81222
*CQC rated outstanding in care Nov 2017. A registered Charity no. 306948