Langdon Court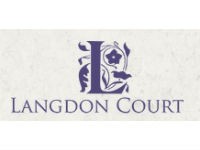 Langdon Court, Adams Lane, Down Thomas, Plymouth, PL9 0DY
Telephone: 01752 862358
Website: www.langdoncourt.com
Langdon Court - an achingly romantic setting for your wedding, within an elegant Elizabethan mansion surrounded by woodland, beautiful gardens and beyond the trees, an expanse of ocean. The elegance and charm of Langdon Court's stylish interior, with its large bay windows framing views across the grounds, makes this the perfect setting for your wedding.
An 'exclusive use' wedding celebration affords you the run of this unique hotel. Arrive the day before the wedding and enjoy a weekend-long celebration, where guests might explore the grounds and stroll across the sands of Wembury Cove, while savouring delectable food and partying in privacy. Civil ceremonies may also take place here and for the photographer there's a dreamy array of backdrops for the photographs.
Outland Road - Plymouth, Devon

Outland Road busy but moving between the Manadon Roundabout and the Milehouse Interchange. Travel time is seven minutes.

A379 Billacombe Road - Plymouth, Devon

A379 Billacombe Road busy but moving near the Sugar Mill Business Park.

Forder Valley Road - Plymouth, Devon

Very slow traffic on Forder Valley Road near the Forder Valley Interchange. Travel time is four minutes.